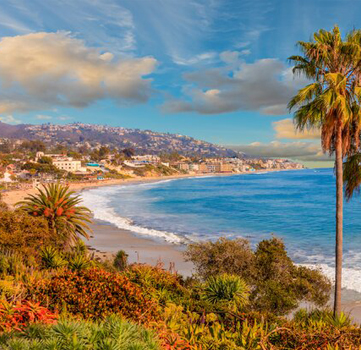 8 Orange County Towns with Easy Commutes to LA: Some people love to live amidst the hustle and bustle of Los Angeles , and who can blame them , You can start your morning at venice beach then head out to Griffith Observatory to watch the sun setting over the city of Angels.Yet, for every person who loves living in the heart of L.A others want a bit of space between them and Tinseltown .
Orange
Famously known for its rich agricultural history, the city of Orange is now a bedroom community filled with suburban communities.
Orange is a terminus for several major highways, which makes it ideal for commuters. The Five runs along the southwestern side of the region, which intersects with the 22. Most folks use the Five to reach DTLA, but others use the Anaheim Regional Transportation Amtrak station.
When heading to Santa Monica, most commuters use the 405 and drive an hour to get to this section of LA. Unlike most cities in OC, Orange preserved its older buildings in Old Towne, so residents can see what homes looked like at the turn of the century.
But not all the houses in Orange are historical, and new construction condos are available for commuting-minded buyers to purchase.
Buena Park
If you are looking for easy commutes and want to live amidst suburban bliss, you should check out Buena Park.
It is located in the northwestern corner of Orange County, right next to the border of Los Angeles County. This fun little city has attractions like Knott's Berry Farm theme park and the Big Air Trampoline and Adventure park.
Most of Buena Park comprises single-story family homes placed on sizable plots of land, which is perfect for folks looking for space after years of living in cramped LA apartments. But for those who move out and still work in Los Angeles, Buena Park offers easy commutes to the City of Angels via the Five freeway.
It takes about 30 minutes on the Five to reach DTLA and an hour or so to reach
Santa Monica using the Five and 10 freeways.
Laguna Hills
Some people enjoy a nice car ride to work, as it lets them take in the sights of LA while listening to their favorite podcasts.
Laguna Hills is likely the farthest you can go outside LA before the drive gets overwhelming. At commuting times reaching an hour and twenty minutes, this scenic city in the Laguna Valley is ideal for folks who want the exclusiveness of OC but have to travel into the office a few times a week or month.
Situated just east of the enclave of Laguna Beach, this region is right near the Five, making for a straight shot to DTLA. You can also get creative, taking the 73 to the 405, riding that until you can take the 110 north to Downtown Los Angeles.
Commuters working in Santa Monica have about an hour and twenty minutes of commuting, but they can take the 73 and then ride the 405 to Downtown Santa Monica.
Huntington Beach
Part of the allure of living in California is being able to spend a day on the
Pacific shores.
There are plenty of beach towns and cities dotting the coast, but not many hold a candle to the curls at Huntington Beach. Known as Surf City USA, Vans hosts the US Open of Surfing in Huntington Beach, as it has some of the best waves in California.
The miles of uninterrupted beachfront near Newport Beach are where many commuters spend their off hours, away from the doldrums of city life. But when the work week hits, Huntington Beach is excellent for people making the hike to LA.
If you work in Santa Monica, you have about an hour of driving ahead, starting on the Pacific Coast Highway, then cutting through Seal Beach to reach the 405 freeway.
Going to Downtown Los Angeles is a reach, as the trip takes an hour and a half by car. You could take the 605 to the Five, or the 605 to the 105, then the 110.
Yorba Linda
If you prize space, peace, and quiet, you should check out Yorba Linda.
Nestled right up against Chino Hills State Park, this OC city is perfect for those who want easy access to nature and a corridor to LA. While there are plenty of outdoor pastimes like the Black Gold Golf Club and Yorba Regional Park, few public transportation options exist for commuting.
So driving is the way to go if you work in LA but want to live in Yorba Linda.
Most folks take the 90 to the 91, then merge onto the Five, reaching Downtown Los Angeles in about an hour.
Plus, if you have to travel to the Inland Empire, you can take the 142, 91, or 57 freeways to head northeast.
Irvine
Some longtime LA residents move out and set up shop in nearby Irvine.
This city sits close to the middle of Orange County, making it ideal for folks who have to travel to places like San Diego, an hour-and-a-half to the south. Many people move here to work at companies like Blizzard Entertainment or Acorns, as the tech scene here is taking off.
Yet many living in Irvine also commute to Los Angeles. Most drivers hop on the Five Freeway, a straight shot to Downtown LA, for an hour or so commute. But not everyone is working in the beaux-arts buildings dominating DTLA.
Many people commute to Santa Monica for work, and drivers can use the 405 freeway to reach the western reaches of Los Angeles within an hour or so.
If you do not feel like driving, there is an Amtrak available that takes about two hours to arrive Downtown.
Aerial view of homes in Anaheim, California
Some folks move to the Inland Empire, while others find Orange County has the most manageable commute to LA. Several major throughways connect the OC to Los Angeles, some running near the hills or down by the coast.
To kick off the search for homebuyers with daily commuting on their mind, the team at Prevu Real Estate put together a quick list of Orange County towns with easy commutes to Los Angeles.
Westminster
Californians who want access to the ocean yet need to be close to the highways for work should check out Westminster.
It is a suburban city known for its vibrant Vietnamese population, many of whom moved to the area in the 1980s. It is easy to see why they moved here, as there are plenty of parks and large single-family homes characterizing the city.
Seal Beach is very close to Westminster and is a popular weekend destination for many residents. When the work week begins, many folks hop on the 405, then merge onto the 110 to reach Downtown Los Angeles with an average commuting times ranging around 40 minutes.
People driving to Santa Monica take the 405 for about 40 minutes or so to get to work.
Anaheim
The city of Anaheim is a great place to settle down if you want to own property in California but get away from the bustling LA metropolis.
This slice of OC is where you can find the Disneyland Resort and the Honda Stadium, where the Anaheim Ducks hockey team hangs their jerseys. Beyond sports and resorts, people move to Anaheim to take advantage of the commuting options to reach Los Angeles.
The Five freeway runs right through the city's center, near Disneyland Park, and the 91 highway cuts across the area, leading drivers to the Inland Empire. For folks driving to work, they hop on the Five, which takes about 45 minutes to get to Downtown Los Angeles.
If you have to go to Santa Monica, you have a bit of a long drive ahead of you, starting on the 91, then merging onto the 405 until it intersects with the 10 highway.